What is WaterSmart?
WaterSmart is a software-as-a-service offering that transforms your meter read data into a highly effective, customized water conservation and customer engagement program.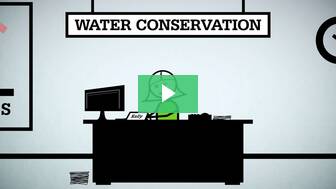 Your customers receive WaterSmart's world-class Home Water Reports and self-service Web Portal.
Your utility receives analytics that reveal insights into your customers, their consumption, & their program participation.
WaterSmart is quickly and seamlessly deployed to the web and requires no integration or hardware on your part.
Why leading Conservation Managers and General Managers are deploying WaterSmart...
Avoid New Water Purchases

Reduce water demand by 5% in 6 months (see case study).

Amplify Existing Conservation Programs

Gain a 3x boost in program adoption (see case study).

Engage Your Customers

See a 14% jump in online engagement (see case study).

Boost Customer Satisfaction

Fulfill customers' increasing desire for information and control.

Acquire Customers' E-mail Addresses

Convert more customers to e-billing and online payment.

Transform your Meter Data

Make AMI or traditional data an asset that reduces costs.

Solve Acute Water Issues

Reduce peak demand and irrigation runoff.

Hit Conservation Targets

Meet or exceed regional goals like California's 20x2020 goal.
"Very beneficial. It has triggered customers asking if they are efficient or not and asking how they can do more to conserve."
Richard Harris
Manager of
Water Conservation
EBMUD
"The program was easy to implement and we began seeing positive results within a few billing cycles."
Fiona Sanchez
Assistant Director
Irvine Ranch Water District
"[It] enables us to have sustained, personalized communications with our customers. The Home Water Reports generated a measurable increase in interest in the City's conservation programs."
Damien O'Bid
Director
City of Cotati
How it Works
WaterSmart's world-class Home Water Report and Web Portal products power your branded, customer-centric water conservation and engagement program.
1. Seamless Launch of your Program
You provide meter and rebate data from ANY system.
Absolutely no hardware or integration hassle.
We deploy your customized and branded water
conservation program in about a week.
Your program is configured to address your issues,
like seasonal patterns, specific rebate programs, and goals.
2. Engagement and Water Efficiency Made Easy
Customers receive Home Water Reports via paper or email.
Each is tailored to help them understand their water use, how
it compares to similar homes, and actions they can take to
use water more efficiently.
Customers are guided to your Consumer Web Portal where
an interactive experience reveals tailored and actionable
guidance on exactly how to save water.
By capturing e-mail addresses, the Portal contributes directly to your e-bill and e-mail marketing efforts.
3. See the Impact
Your campaign's performance is measured, distilled, and
cleanly presented via your Water Efficiency Dashboard.
Customer relationship management tools allow
your team to easily find campaign and account details.
Analytics & Reporting capabilities offer revealing insight
into your customers, consumption, and program participation.
Why it Works
We use personalization and persuasive product design to produce real and sustained behavior change.
A Proven Approach:
Transform consumption data into understandable, compelling, and actionable water use information.
Give customers steps they can easily follow to make change happen and celebrate their successes.
Make change more likely to happen by delivering the right information at the right moment in the right medium.
Behavioral Science Mechanics
We've learned that people pay attention when they see how their usage compares to their neighbors. We fairly compare people to homes with similar water needs.
Targeted Messaging Engine
We've learned that for targeted messaging to work effectively and broadly, it needs to function without over-burdening the customer to supply information.
We uniquely combine water consumption data, program participation data, real-estate data, and climate data to paint a customer profile and recommend only the most relevant and effective water-saving strategies.
Personalization
We've learned that customers, particularly engaged ones,
need to feel control over their use in order to act on water-saving recommendations.
The customer can fill out the Household Profile to offer a better picture of their home's characteristics. We use this information to then show, for example, how water is likely being used across their home.
Compelling Presentation
We've learned that transforming data into desirable, consumable
information is the first step in successfully engaging customers.
We constantly experiment with and evolve how we present information to customers so that they quickly and effectively understand their water use.